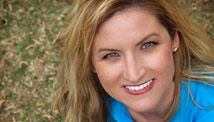 Editor's note: Rebekah Sanderlin is an Army wife, a mother of two and a freelance writer who lives near Fort Bragg, North Carolina. She writes the "Operation Marriage" blog about military family life.
I was barely through my first cup of coffee Saturday morning when my husband called. He's not deployed now, but had to spend Friday night training at Fort Bragg. He'd heard rumors about the helicopter crash in Afghanistan but didn't know any details. I quickly jumped on CNN.com and found the headline "Dozens of Americans dead," and my heart fell like an anchor.
Once together, my husband and I immediately began a roll call, anxiously suggesting names to each other of everyone we know who is deployed in Afghanistan, wondering if any of our friends might be dead.
FULL STORY