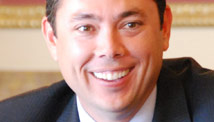 Editor's note: Republican U.S. Rep. Jason Chaffetz represents Utah's 3rd Congressional District.
At the conclusion of the decade-long manhunt for the world's most notorious terrorist, U.S. military forces are receiving well-deserved credit for a mission accomplished. The elimination of Osama bin Laden was made possible by a strong intelligence operation and well-trained special forces units under the Joint Special Operations Command.
In the global war on terror, the combination of actionable intelligence and highly mobile special forces has proven most effective against an enemy that is not limited to a single geographic location.
Amid the worldwide celebration of bin Laden's death, we must recognize that the nature of this war does not require the placement of 100,000 troops in one country. It was not the 100,000 troops that took out bin Laden. We can bring many of those troops home and still effectively fight terrorism around the world.
Read the full story