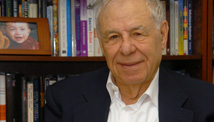 Editor's note: Amitai Etzioni is a sociologist and professor of international relations at George Washington University and the author of several books, including "Security First" and "New Common Ground." He was a senior adviser to the Carter administration and has taught at Columbia and Harvard universities and the University of California, Berkeley.
President Obama is reviewing, again, what we are doing in Afghanistan. He should order our diplomats and generals to stop turning a blind eye to the widespread sexual abuse of children.
At the time our troops helped liberate Afghanistan in 2001, pedophilia had been largely curbed by the Taliban. However, since then, some Pashtun men have have been abusing the new freedoms for which our young men and women are dying - to molest young boys.
This vile practice has been recently documented by an Afghan journalist who returned to his native country for public television's "Frontline."
The program starts with a flat statement: "In an Afghanistan ravaged by war and poverty, an ancient tradition has been secretly revived: Young boys sold by their families to wealthy merchants and warlords, taught to dance and entertain, and used for sex."
Read the full story