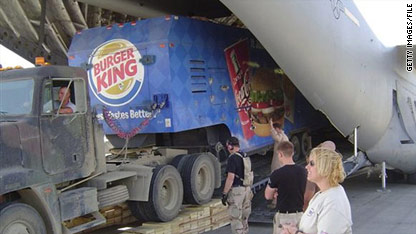 Concessions were banned on bases at one point because they took up space for supplies..
U.S. troops in Afghanistan may soon get their burgers back.
Army Command Sgt. Maj. Marvin Hill, who took over as the senior non-commissioned officer in Afghanistan this month, told Stars and Stripes on Thursday that he was reversing a ban on fast food concessions such as Burger King and Kentucky Fried Chicken that had been instituted earlier this year.
"For troops to be able to go and grab a burger or a piece of chicken or whatever, I don't really think it's that bad," Hill told Stars and Stripes.
The concessions ban had been put in place by Gen. Stanley McChrystal in February as the military was boosting its troop strength in Afghanistan. McChrystal said the concessions took up space on bases and in supply lines.
"This is a war zone – not an amusement park," McChrystal's senior NCO, Sgt. Maj. Michael Hall, said at the time.