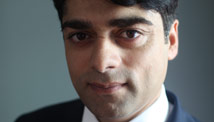 Editor's note: Sharjeel Kashmir is an investment banker who works on financial derivatives and banking strategy in New York City. An alumnus of Harvard Business School, he also works with international microfinance institutions, developing their corporate and governance strategies.
It was Pakistan's birthday on August 14, and no one celebrated.
The monsoon floods that engulfed most of the country and affected 20 million people have added yet another burden of misery onto the shoulders of the average Pakistani. More than 4 million people are homeless. Livestock, crops and livelihoods were destroyed.
How far this once-proud nation has fallen.
In Urdu, Pakistan means the "land of the pure." It reflects the noble intentions of its creators to build a nation that enshrined the best of Islamic principles. Unfortunately, that nobility has given way to chaos because of bad luck, incompetent political leaders, corruption and religious extremism.

Read the full story