A suicide bombing on May 18 in Kabul, Afghanistan, killed at least 18 people.
The blast killed at least a dozen civilians, five U.S. troops and a Canadian service member, officials said. It occurred on a busy road near a NATO-led military convoy and a registration center for the Afghan Army.
Here are profiles of the five U.S. service members killed in the attack.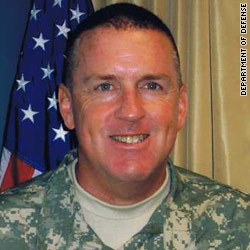 Col. John M. McHugh, 46, West Caldwell, New Jersey
McHugh was "one of the most positive guys I've ever met," his childhood friend Jeff Bradley remembered.
Bradley and McHugh grew up together in West Caldwell.
He was "somebody with a smile and encouragement. A personality never succumbing to a crisis," Bradley said. "He was the same steady happy upbeat guy."
Bradley, an ESPN writer, said McHugh was probably the best soccer goalkeeper Bradley knew when he played against him at a rival high school. And a good writer, too. He remembered reading all the stories and reports that McHugh would write up after all the games he played for James Caldwell High School.
He was "a born leader, a natural leader," according to Bradley, and it was no surprise to anyone when he got into West Point.
Bradley remembered him always having "very short hair and (being) disciplined in all aspects."
Jim DiOrio, a classmate of McHugh at West Point, set up a Facebook group in McHugh's memory, "Remembering Johnny Mac." Already there are nearly 1,400 members.
DiOrio said McHugh was a person with "maturity beyond years who was energetic and optimistic with everything in life."
He "could be relied on at all times even at such a young age," DiOrio said.
At West Point, McHugh continued his love for sports, playing goalkeeper for its Division I team, DiOrio said.
DiOrio said he and other former classmates were reminiscing about McHugh and tried to think of a time when the colonel was ever mad, angry or upset. Nobody ever saw him angry.
His senior yearbook from West Point underscored that good spirit.
"He never lets anything get him down. If he had a bad test, he would jump for joy that he still had his health. If he lost a soccer game he would joke about how nobody on the other team knew how to speak English. Johnny Mac's willingness to give that Mac smile and encouragement to someone else never went without appreciation," the yearbook entry said.
That is how his former friends want him to be remembered.
McHugh was the head of U.S. Army Battle Command Training Program at Fort Leavenworth in Kansas. He had arrived in Afghanistan just days before he was killed, and was one of the highest-ranking officers to die in Afghanistan.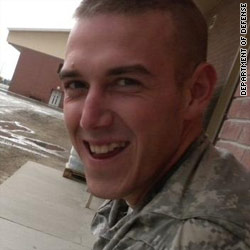 Spc. Joshua Tomlinson, 24, Dubberly, Louisiana
"He was always smiling."
That's how Ann Holomon remembers her former student.
His wife, Rowena, described him this way in an email to CNN: "Josh was a great person that made everybody around him laugh and put a smile on their face. He's got a good heart, a great friend, an amazing son and the best husband a woman could ask for."
Tomlinson was based in Germany until his deployment to Afghanistan. He grew up in the small town of Dubberly in the northwest corner of Louisiana before he joined the Army four years ago.
Before joining up, he went back Lakeside High School to talk to Holomon, his former algebra teacher who is now a guidance counselor.
"He wanted to serve his country," Holomon said.
"He was a very smart young man. He always did well in his classes," Holomon said. She said  Tomlinson liked to draw and enjoyed music.
Army officials are expected to promote Tomlinson posthumously in the next few days to the rank of sergeant.
He is survived by hiw wife, a brother, two sisters and his parents.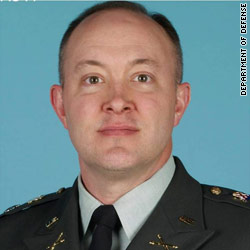 Lt. Col. Thomas Belkofer, 44, Perrysburg, Ohio
Belkofer never did anything half way, his mother, Sharon, said. The former high school wrestler was a "fun kid."
"He was gung-ho about everything he did and gung-ho in his enjoyment. If he was happy about something, he was very happy. If he was upset, he was very upset," his mother said.
That enthusiasm contributed to his commitment to his nearly 18 years of military service. But before he joined the military, Belkofer had a hard time finding direction, his mother recalled.
"He was a jack of all trades. He wasn't sure what he wanted to do," she said. After high school, Belkofer studied electronics design and civil engineering, dropping out after a year of each and taking time off. Finally, he ended up at a college where he studied physical therapy before settling on architectural design.
But he found his footing in the Army where he excelled in budget and planning. His work in Afghanistan utilized those skills.
Belkofer was only in Afghanistan for a two-week tour, along with a few other officers, ahead of his unit deployment in October.
He'd served already in Afghanistan in 2005 and 2006 and he felt strongly about his commitment there, his mother said.
"He was very caught up with the people. He used to talk about some of his experiences with the people and the children, and the impact the military had in making things better for them," Sharon Belkofer recalled.
Belkofer is survived by his wife, Margo, and two daughter, Alyssa, 15, and Ashley, 11.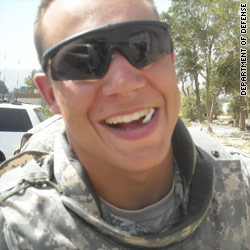 Staff Sgt. Richard Tieman, 28, Waynesboro, Pennsylvania
"He was a very outgoing, loving, caring guy," his mother, Diane Tieman, said. "He enjoyed other people and they enjoyed him."
Tieman was coming up on his 10-year anniversary in the Army and already had three war zone tours under his belt.
He had served in Iraq twice and was hoping to be home from Afghanistan in two months.
Tieman grew up as an Army brat, living with his family in North Carolina, Germany and Colorado.
"He was following his father's steps," Tieman said about her son's decision to join in September 1990.
The family takes comfort that he was doing what he wanted, his mother said. "He didn't mind doing it," she said. "He loved his job."
Tieman was awarded the Bronze Star and Purple Heart posthumously and his other awards and decorations include the Army Accommodation Medal, Army Achievement Medal, Army Good Conduct Medal, National Defense Service Medal, Afghan Campaign Medal, Iraq Campaign Medal, Global War on Terrorism Expeditionary Medal, Global War on Terrorism Service Medal, NCO Professional Development Ribbon, Army Service Ribbon, Overseas Service Ribbon, NATO Medal, Combat Infantryman Badge and the Combat Action Badge.
On a recent leave he had married a fellow soldier, Staff Sgt. Paulina Tieman, and they had planned a bigger wedding this winter.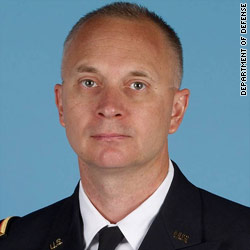 Lt. Col. Paul R. Bartz, 43, Waterloo, Wisconsin
Bartz was 43 years old when he died Tuesday in Kabul, Afghanistan. As a career military officer he spent his adult life on the move, but Waterloo was still home.
"It's a sad thing, these boys over there giving their lives," said Waterloo resident and contractor Phil Broetzman. It hits close to home. This is a real tragedy."
The local Waterloo restaurant, Cindy Lou's Cafe, was full of talk about Bartz when Broetzman came in for coffee Thursday morning.
"He was a nice young man. I am still in shock," Broetzman told CNN by telephone. "He was a good friend of my son. They played basketball together."
The U.S. Army says Bartz had arrived at Fort Drum in upstate New York in June 2009 and was in Afghanistan to conduct training and set conditions for the deployment of the 10th Mountain Division headquarters later this year.
He leaves behind a wife and son.
His awards and decorations include the Defense Meritorious Service Medal, Meritorious Service Medal, Army Commendation Medal, Joint Service Achievement Medal, and Army Achievement Medal.
- CNN's Hunter Burgarella, Charley Keyes, Larry Shaughnessy and Adam Levine contributed to this report.