Afghan President Hamid Karzai visited Arlington National Cemetery on Thursday, visiting the grave sites of Afghan war veterans buried there. He was joined by Secretary of Defense Robert Gates, Joint Chiefs of Staff Chairman Adm. Mike Mullen and Gen. Stanley McChrystal, commander of the U.S. forces in Afghanistan. The group visited Section 60 of the cemetery, the burial ground for personnel killed Afghanistan and Iraq. More than 500 veterans are buried there.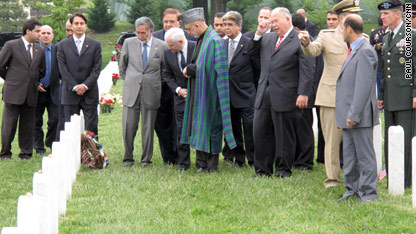 Karzai's party stops by a row of grave markers.

One of the graves that Karzai stopped at was that of Justin Davis, PFC U.S. Army.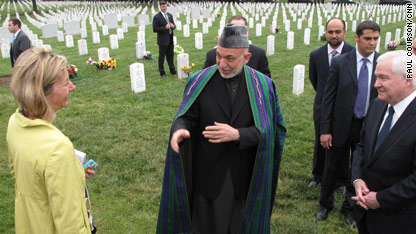 Karzai stops to greet Christina Lamb, of London's Sunday Times newspaper.