U.S. Army Captain Rebecca Dimurco crouches to be closer to eye level while speaking with Afghan children during an operation to transport patients in Uruzgan province, Afghanistan.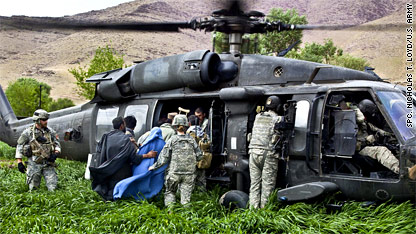 U.S. Army soldiers help injured Afghan villagers onto a UH-60 Black Hawk helicopter.
The soldiers were helping to transport five injured civilians and some family members to an airfield near the city of Tarin Kwot for further transport to Kabul, where they would receive additional medical care.