The Qambar Square camp in Kabul's west is now home to more than 1,200 families from across Afghanistan.
Bibi Hawa lost her husband, daughter and son to war. She now lives with her three grandchildren in a tent at a refugee camp in Kabul.
The old woman cries as she says, "I fled from Marjah in Helmand province because of the fighting. I don't want to go home any more. I lost my family there and I don't believe the war will end in our province."
She is dressed in old clothes and wrapped in an old blanket. As we talk she frequently asks for money.

"My son and my husband fed us before they were killed," she says. "Now I ask people to give me some bread just to survive".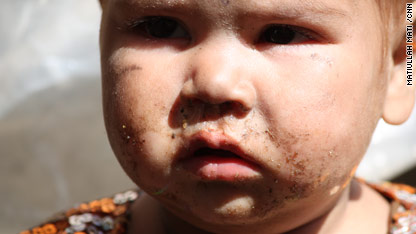 A young child living in the camp.
Wakil Ahmad Tawoos lives at the camp and is a tribal elder. "The camp was established more than year ago," he says. "There are more than 800 families here who fled Helmand province."
As you walk through the camp, you are quickly surrounded by people begging for help. They are refugees in their own country. Some have lost limbs. Some have lost family members.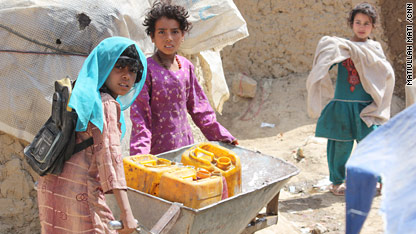 Children carry water with the help of a wheelbarrow.
The children are hungry, but some of them study. There is a school here. It is a tent with no tables or chairs. It is hot in summer and muddy in winter. When class ends the students have to carry water to their homes from a nearby pump.
"Young boys can't get jobs and are spending long days and nights under tents," says Tawoos. "They have to wait for rich people to bring them food or money.
"We were all farmers who made money growing opium. Now there are no more jobs for us in Helmand because the government has banned poppy farming."
The Afghan government says it "encourages" the refugees to return to their homes. It is planning to provide transportation in the future.