Yesterday I wrote a piece for Afghanistan Crossroads touching on the main challenge facing the coalition now that the fighting in Marjah has come to an end: winning over the local population.
Today, Monday, we saw first hand what that means. We went to the rough base of the Charlie Company to join a patrol heading to the village of Nasiri, outside Marjah. Mad-dogs, Englishmen and the Marines go out in the midday sun.
The purpose of the patrol was not to engage in combat with the Taliban, however. It was essentially a social call, intended to build relationships between the Marines and the people around Marjah. (Watch the video of troops practicing diplomacy in the village)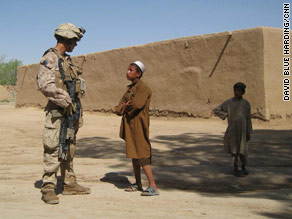 After trudging through muddy fields (some growing opium) and jumping (with packs and flak jackets) across irrigation canals, we came upon a group of farmers taking a tea break.
Twenty-two-year-old patrol leader Jerrod St. Orge greeted the farmers through his translator, and explained he wanted to meet the village elders to discuss their concerns. St. Orge was accompanied by 2nd Lt. George Russo, a Marine civil affairs officer.
"Can we continue to grow opium?" one of the farmers asked Russo.
He hesitated for a moment. "Yes, you can, but we'll try to find you alternatives to opium as soon as possible," he replied.
The farmers told Russo their irrigation canals needed repairs, that they needed new pumps, that they wanted schools to be built, they wanted electricity and they wanted more jobs for the people of the village.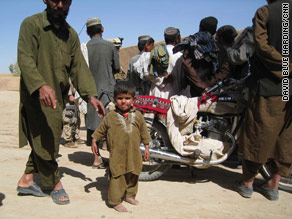 Their wish list was long. The Marines have money to compensate for war damage to civilian infrastructure and to fund small local projects. At some point, however, real aid agencies will become involved, in addition to the Afghan government.
But in this day in Nasiri, the only representatives of the Afghan government, so to speak, were the 10 Afghan Army soldiers accompanying the Marines.
I found it ironic that the Marines, the same men who just a few weeks ago had been fighting, were now in the business of reconstruction.
Russo is bemused as well. An architect, he then became a Marine. "First I studied to build, then I was trained to destroy," he told me. "And now I'm doing this."
With their base — a dusty outpost next to an irrigation canal and a field of opium — on the edges of Marjah, the Marines patrol the area on a daily basis. Our patrol was one of the least tense I've ever seen either here or in Iraq. Villagers weren't ordered to keep a distance or go away, kids trailed along, the Marines had learned a bit of Pashtu, the kids a bit of English so there was constant banter, none of it hostile. The Marines took advantage of their outing to buy potatoes to supplement their rations, along with cartons of cigarettes.
This kind of close contact, Russo says, helps in the transformation of their role from fighters to fixers. "We're the ones there, up front, working day in and day out with these people, so they know more than some of the big agencies that  work from a planning room."