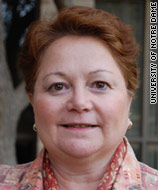 Editor's Note: Cynthia Keppley Mahmood is an associate professor at the University of Notre Dame, specializing in the anthropology of violence, war and peace, terrorism and guerilla warfare. The opinions expressed in this guest blog are solely those of Cynthia Keppley Mahmood.
The United States is losing respect and gaining enemies the deeper it involves itself in terror wars. We may tell ourselves otherwise and hope otherwise, but those who actually study how people on the ground react understand the veracity of this point, no matter what their personal politics.
The recent civilian deaths at Marjah crystallizes the point. We name the operation "Moshtarak" or "Together" (fooling no one), and we quickly apologize for what happened. Yes, many of us both here and there believe President Obama is sincere in his desire to further mutual respect and bring peace to a bloody and underdeveloped part of the world. But still, the bodies of women and children go into improvised graves before another sun rises, as we have learned by now, is required by Muslim tradition.
A group of expert scholars on South Asia met last year at the University of California to consider possible futures for U.S. relations with India, Pakistan and Afghanistan. Despite our disciplinary and political differences, we arrived unanimously at five points of advice as to how the United States should proceed in Afghanistan.
1. Support self-determination. Many people in the South Asian region see the U.S. presence there as a continuation of British colonial influence, or in the case of Afghanistan, a continuation of an attempted invasion and takeover by a superpower. Like people everywhere, South Asians want to be in charge of their own futures, and the United States can influence events in the region only as a partner and assistant in helping them to do that. Appearing as an occupier, it is not surprising that locals respond by fighting, as they see it, for their freedom.
2. Demilitarize. Although top political as well as top military leaders in the United States have recognized publicly that there is no military solutions to the problems of the region, our military involvement continues to escalate. Surveys show that anti-American sentiment is rising in direct correlation with the increase in U.S. military presence, so much so that in Pakistan the U.S. now tops India and the Taliban as the most threatening enemy. The plain fact is that we are not winning hearts and minds, whatever our intentions. We are creating enemies.
3. Recognize religious and organizational diversity. The complexity of tribal affiliations, ethnic collectivities, religious sects, and political alliances in Afghanistan is staggering. In the face of poverty, illiteracy, and long term warfare we tend to imagine these cultural complexities as fading in importance, but they are the very stuff of life for Afghan society. The web of groups that comprise "the Taliban," for example, itself demands a nuanced grasp of language, local hierarchies, schools of Islamic thought, and internal and external alliances. We should ask ourselves with brutal honesty: do we know enough to fight an enemy like this, or to help a people like this, or to build a nation based on a society like this?
4. Respect the legitimacy of religious politics. This is a hard one for most Westerners, brought up on a steady diet of separation of church and state. But in South Asia, religion in the public sphere is not necessarily to be feared as anti-democratic. In India, the very term "secular" welcomes a public discourse inclusive of many religions. Ghaffar Khan, a Pashtun like most of the Taliban today, was known as "the frontier Gandhi" because he led a pacifist movement among the same people we now imagine as somehow inherently violent. For centuries, it was Islamic courts in these regions that provided the basic structures of justice and order, as empires came and went; madrassas that provided the bases for literacy in a land in which knowledge of letters was otherwise restricted only to the wealthy. So for many today, the longing for a religiously based political order is simply a way of stating a desire for morality in public life – for a government that is principled, incorruptible, and based on the needs of the common people. Western rhetoric that seems to fear all religious politics is heard as nonsensical, elitist, or at worst, as a simple form of prejudice.
5. Consider regional solutions. Even if the U.S. remains involved in South Asia, it is important that we remain open to local solutions drawing on neighboring countries, perhaps involving a wider range of issues than "terrorism" per se. Although the U.S. was drawn into this region because of the attacks of 9/11, it is still a newcomer there. Even we have already moved beyond the initial goal of exacting justice by capturing or killing bin Laden and eliminating his al Qaeda cohort; wider issues loom heavily, like the stabilization of the relationship between India and Pakistan, nuclear neighbors. The American public has been less aware than our military leaders that a single-minded focus on wiping out al Qaeda and its sympathizers had the potential to disrupt the finely-tuned balance of Pakistani politics; every triumphant killing of a top terrorist leader risks a backlash from radical Islamists. Civilian deaths from unseen and unclaimed attackers in the sky rally support, of course, as nothing else could.
The real puzzle here is that President Obama himself knows better than his decision to escalate would indicate. He is an intelligent and observant student of history. He must see that we have now scattered a small band of dedicated enemies from a single nest to locations throughout the world, and multiply their numbers geometrically with every Pyrrhic victory.
Perhaps the Pakistani poet of Partition, Faiz Ahmed Faiz, said best how many of us, saddened, somehow still hopeful, feel about Obama's military escalation in Afghanistan as we watch the broken bodies of the people of Marjah pulled out of their shattered homes: "This stained dawn is not the one we've waited for . . ."
The question is, is any other possible? Our group believes so. We are waiting for a courageous leader to take a step consonant with the facts – down the unknown path away from a war we cannot win, towards a peace we can and must achieve.