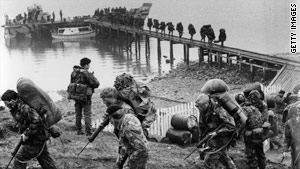 The death of a British soldier on an explosives-clearing operation in Afghanistan has pushed the British death toll there past that of the 1982 Falklands War, the Ministry of Defence announced Tuesday.
The soldier's death brings to 256 the number of British troops killed in Afghanistan since operations there began in 2001, the defense ministry said. The British death toll from the Falklands conflict was 255. 
The soldier, from the 36 Engineer Regiment, died Monday from an explosion in the Nad-e-Ali district of Afghanistan's southern Helmand Province. He was part of a task force to clear roadside bombs.
"He was leading a team conducting route-clearance operations at the time, making the way ahead safe for others to follow," said Lieutenant Colonel David Wakefield, a spokesman for Task Force Helmand. "His indomitable courage and fortitude, the hallmark of his profession, will not be forgotten."
The Ministry of Defence did not release his name, but said his next of kin had been informed.
Two soldiers from The Royal Scots Borderers, 1st Battalion The Royal Regiment of Scotland, were killed by an explosion Monday, also in Helmand Province, the defense ministry said. The deaths of those soldiers, whose names were not released, meant the total death toll matched that of the Falklands.
"Sad milestones such as this naturally attract attention in the U.K., but in theater our people continue resolutely and courageously with the task of assisting Afghans to build their own future," said Air Chief Marshal Jock Stirrup, chief of the British Defense Staff.
"We should not forget that each and every death of a member of our armed forces is a tragedy of equal proportion," British Defense Secretary Bob Ainsworth said. "Our thoughts at this time lie firmly with the families and friends of all the brave men and women fallen in Afghanistan, and we should all
remember that every one of them has given their lives in defense of their - and our - country."
The Falkland Islands are a British territory located 670 miles (1,000 kilometers) from the coast of Argentina. Argentina has claimed sovereignty over the islands since they were occupied by the British in 1833.
 Argentine troops invaded the islands in April 1982, sparking a two-month war with intense land and sea battles. Argentina surrendered June 14, having lost nearly 650 troops.