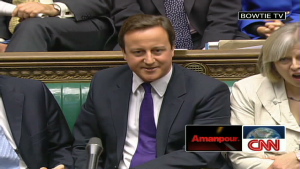 The United States and NATO should withdraw from Afghanistan on the basis of success and not set artificial deadlines for a pullout, Britain's opposition Conservative Party Leader David Cameron told CNN Friday.
Speaking to CNN's Christiane Amanpour from the World Economic Forum in Davos, Switzerland, Cameron said it's important to build on and reinforce success rather than set a deadline for a pullout at some point in the future.
"We want to withdraw troops on the basis of success - on the basis of an Afghan national army that's able to take control of parts of the country - rather than believing there are artificial deadlines where we can do these things automatically," said Cameron.