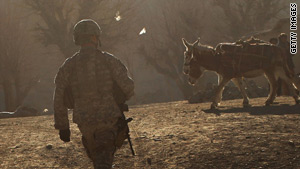 As talk emerged about a secret meeting of U.N. and Taliban officials, the battlefield lit up in Afghanistan, with a joint Afghan-international force and Afghan soldiers exchanging fire when both sides mistook the other for enemy combatants.
The violence flared as a widely circulated news report said that senior Taliban commanders met in Dubai earlier this month with Kai Eide, the U.N. special representative for Afghanistan. The meeting reportedly dealt with the prospect of peace talks with the Afghan government.
The United Nations won't comment on the reports, and the Taliban issued a flat denial of what it called "futile and baseless rumors."