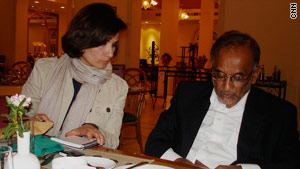 Sanaa, Yemen - His anguish apparent, the father of Anwar al-Awlaki told CNN that his son is not a member of al Qaeda and is not hiding out with terrorists in southern Yemen.
"I am now afraid of what they will do with my son, he's not Osama Bin Laden, they want to make something out of him that he's not," said Dr. Nasser al-Awlaki, the father of American-born Islamic cleric Anwar al-Awlaki.
As recently as Sunday, Yemeni officials including provincial governor Al Hasan al-Ahmadi claimed that al-Awlaki was hiding out in the southern mountains of Yemen with al Qaeda.