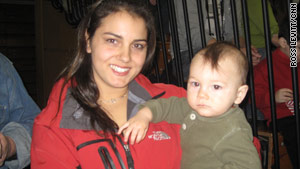 Christmas came a day late for the families of nearly 300 soldiers returning to Fort Drum in New York on Saturday from a one-year deployment in Afghanistan.
But it hardly seemed to matter.
Loud cheers filled Magrath Gym as the soldiers marched in just at just after 6 in the morning.
Many families waved signs and flags. One toddler sported a shirt that read, "Welcome home Daddy. I took care of Mommy while you were gone."