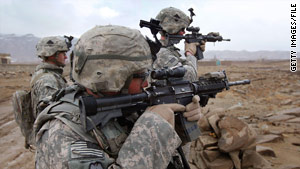 Although the war in Afghanistan remains unpopular with most Americans, the public supports President Obama's decision to send more U.S. troops to the conflict, according to a new national poll.
Fifty-nine percent of those questioned in a CNN/Opinion Research Corp. survey released Wednesday morning said they favor the president's plan to send 30,000 more U.S. troops to Afghanistan, with 39 percent opposed.
"Most of those who oppose Obama's plan would like to see the U.S. immediately withdraw all its troops from Afghanistan," CNN Polling Director Keating Holland said.