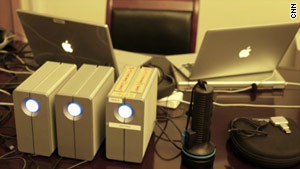 I reached Kabul. The flight was nothing remarkable. From London to Dubai, then onto Kabul on Safi Airways. Never heard of Safi Airways? It's an Afghan-operated company based in Kabul. According to their corporate profile, "Safi Airways' vision is to make Afghanistan more reachable from all parts of the world." And it seems they manage that by flying a rather well-used Boeing fleet of aircraft, but at least the crew is pleasant and helpful.
As I got off the plane and onto a bus, a fresh, crisp and rather chilly air filled my lungs. It was cold, but not as cold as I thought it would be at this time of the year. After we reached the baggage hall there was a bit of a wait. A bit more of waiting and eventually our baggage rolled by on the conveyor belt. It's a time when every frequent traveler holds his breath. The only thing on my mind was: Did all of my baggage make it all the way from London?
One, two, three ... well done Safi, it's all here, but no trolleys in sight. I waited till all of my stuff was piled up next to the conveyor belt. Miraculously a couple of porters emerged with two trolleys. A bit of haggling to agree on the "tip" for the service and we moved on to customs.
Customs was easy. No questions asked, just an X-ray of all the baggage and we were on our way to the arrivals hall. I looked around the hall but there was no one there to meet me. Usually in places like this someone meets crews either at the arrivals by the baggage or past the customs. The arrivals hall was almost deserted. Not a soul holding a familiar sign.
I was just a bit concerned. Now I needed to figure out how to get to the bureau, but more important I needed to find out where the bureau is actually located. I must be getting rusty with my travels. Rule No. 1: Before departure get the exact address of where you will be going after landing and how far it is from the airport to the final destination so you don't get ripped off on a taxi ride. As I was assured someone is going to meet me at the airport, I did not think about Rule No. 1.
Fortunately something had prompted me to go outside of the terminal building. I was about to make a phone call when I was approached and asked if I'm Woj. It was my ride. For security reasons non-passengers are not allowed inside the terminal building - a little fact of life in Kabul I was not aware of.
We loaded up and started driving, but not before the helpful porter raised his "tip" by 50 percent. He was persistent in asking for more. At first he played the sad-face card, then it seemed he was getting a bit angry as we drove away. I was told by my driver who spoke basic English that it was only 15 or so minutes away. It was Friday, a day of rest, but on any other day of the week Kabul can grind to a halt. We went through three barricades before being actually outside the security zone of the airport.
This being Friday morning it was rather slow at the bureau. I unpacked and got a quick tour of the bureau. Then in the afternoon a sort of handover ensued: an introduction to the bureau's equipment, live shot location and other facilities. The only thing that still baffles me is how the file footage is organized in the three huge hard drives. Perhaps by the time I leave I'll be able to tell.