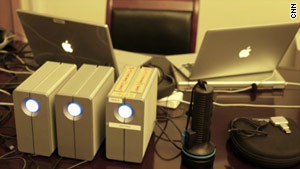 I reached Kabul. The flight was nothing remarkable. From London to Dubai, then onto Kabul on Safi Airways. Never heard of Safi Airways? It's an Afghan-operated company based in Kabul. According to their corporate profile, "Safi Airways' vision is to make Afghanistan more reachable from all parts of the world." And it seems they manage that by flying a rather well-used Boeing fleet of aircraft, but at least the crew is pleasant and helpful.
As I got off the plane and onto a bus, a fresh, crisp and rather chilly air filled my lungs. It was cold, but not as cold as I thought it would be at this time of the year. After we reached the baggage hall there was a bit of a wait. A bit more of waiting and eventually our baggage rolled by on the conveyor belt. It's a time when every frequent traveler holds his breath. The only thing on my mind was: Did all of my baggage make it all the way from London?
One, two, three ... well done Safi, it's all here, but no trolleys in sight. I waited till all of my stuff was piled up next to the conveyor belt. Miraculously a couple of porters emerged with two trolleys. A bit of haggling to agree on the "tip" for the service and we moved on to customs.