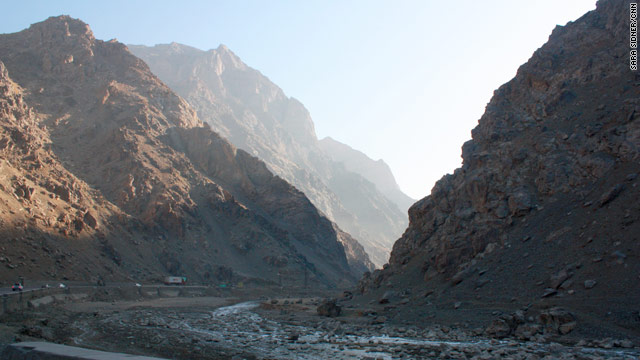 We are driving along Jalalabad road. It is a smooth ride so far. The road was repaved a few years ago. The thick dust in the air has turned everything a soft rust color. There is a flurry of traffic heading into Kabul, but luckily we are going the other way. We are heading to Jalalabad and then to one of the border crossings with Pakistan. Up ahead I can see the craggy rocks of the mountains. It's soothing but I know things can get violent fast. Just two days ago along this road a car bomb exploded injuring several people outside the U.S. military camp we just passed pulling out of Kabul. The Taliban was targeting foreigners again.
I am acutely aware that the beauty of this place is often mixed with blood. The stark contrast pains me. Afghanistan's people have shown me nothing but kindness but I know that can change all to rapidly depending on whom I encounter.
But it's hard to think about all that when I'm staring out the window and witnessing the burst of hand painted color on a Pakistani truck hauling goods up and down the beautiful mountain pass we are on. We wind tightly down the mountain. There has already been an accident on the road slowing us down and a broken down truck. One small mishap ahead and you can be stuck for hours. This is the one time I don't mind. No matter where you turn there is something beautiful. Our security doesn't see it that way. In their eyes every time we are stuck means another potential threat to our safety. We soldier on. The story I want to tell is more than 100 kilometers away. For once I am not itching to get there. I am enjoying the ride.