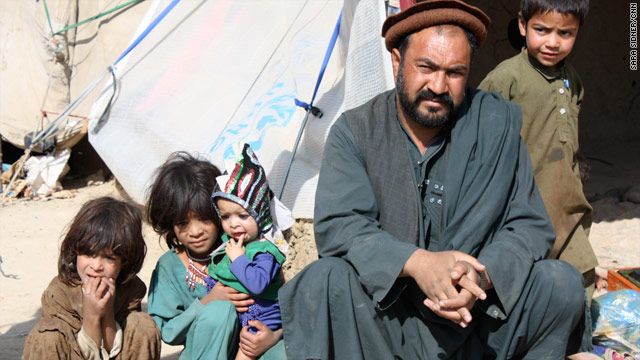 By Sara Sidner
CNN
Kabul, Afghanistan (CNN) - Sayedgul squats next to five of his six children. They lean on him and he responds by picking up his five month old baby girl. The traditional kohl smear around her eyes is running, she's been crying. She's fussy because she's teething. But here there is nothing to teethe on but a rock hard piece of bread. It satisfies her but the look in her father's eyes is one of desperation.
The family has just moved to a place they do not like, no one would. It's a fast-growing make-shift camp inhabited by war survivors and those looking for work in the big city of Kabul, Afghanistan.
Sayedgul says he and his family arrived a few months ago from Helmand Province, one of the most volatile places in Afghanistan.
He lifted his hands as if holding a rifle and said: "Sometimes it was the Taliban shooting at us and other times it was foreigners bombing us. The reason my life is destroyed is because of both the Taliban and foreigner troops."
He said when the fighting between the two stopped the Taliban would show up and their home and steal their food by force.
It was a life the family couldn't handle anymore so they packed up and moved. The first two days in Kabul they found peace.  No sounds of war.
But on the third day something happened to disturb their newfound serenity. Sayedgul said one of his daughters, his 7-year-old, disappeared.
"I don't know what happened to my daughter. Maybe somebody abducted her. I don't know what happened. I just want her back."
The elders in the nearby huts shook their heads in affirmation of his story while they held their Subhah (Muslim prayer beads), threading them one by one through their fingers - a small comfort in a place like this.
The camp looks as if it belonged to nomads from long, long ago. It's a maze of crumbling mud huts, trash and human filth running through open drains. About 800 people live here, according to the United Nations.
The U.N.'s refugee agency spokesman says this isn't really an official camp for internally displaced people. While it is growing rapidly on the outskirts of Kabul, most of its occupants came came out of desperation for work, not necessarily violence from the ongoing war. Many are economic migrants. Afghanistan's unemployment rate stands at about 40 percent.
 Sayedgul insists his story is genuine. He says he and his family have tasted the bitterness of war and want only to live in peace. But he hasn't found it yet. As we leave he goes about his daily routine wandering the maze of indistinguishable mud huts hoping for a clue or a whisper, anything that might lead him to his little girl. For all the fear and frustration war brings, he said losing her is just too much to take.